Welcome to Sludgebusters, The Trusted Septic Tank Pumping Company Serving Santee, Jamul, Spring Valley & Nearby Communities
Sludgebusters Septic Service is the dependable septic company to call for all of your septic pumping needs in East County, San Diego. We have more than 35 years of septic system service experience, an excellent reputation, and an impressive 90% customer retention rate. With our large fleet of well-maintained septic pumping trucks and highly trained staff, we're able to serve clients throughout Santee, Jamul, Spring Valley, El Cajon, Ramona, Lakeside, Alpine, Lemon Grove, Julian, Borrego Springs, and surrounding areas. In addition to regularly scheduled pumping service, we also provide fast, 24-hour emergency pumping service for residential septic systems and commercial septic systems, such as car washes, water treatment plants, breweries, and waterjet cutting companies.
Sludgebusters is certified by the National Association of Wastewater Technicians (NAWT), and our owner is president of the San Diego County Sewage Haulers Association (SDCSHA). Because we have a Class A general engineering contractors license, we are qualified to provide comprehensive septic services, including: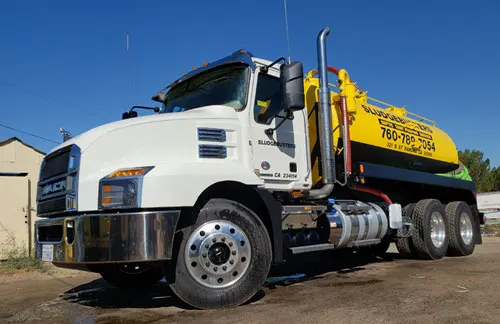 Septic tank replacement
Septic system modernization and upgrades
Septic tank location
Septic inspection and certification
Septic tank pumping
Septic-related emergency response
Call today to tell us about your septic service needs in Santee, Jamul, Spring Valley, or other nearby community. All of our work is done to code, and our vehicles are inspected annually by the San Diego Department of Environmental Health. We are licensed, and committed to providing exceptional value through expert workmanship, superior customer service, and affordable rates.
Sludgebusters Also Offers Santee, Jamul, Spring Valley, El Cajon, Lakeside, Ramona, and San Diego the Best Value in Porta Potty Rentals!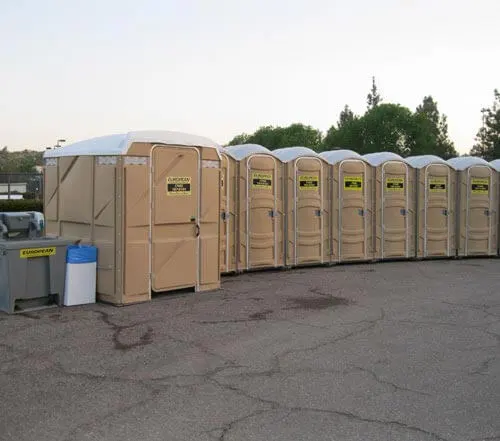 If you are looking for clean and affordable porta potty rentals near Santee, Jamul, Spring Valley, Lakeside, Ramona, El Cajon, or anywhere else in the San Diego County area, call Sludgebusters. For events, races, constructions sites, sports venues, parks, wineries, and food festivals, we have standard-size porta potties and handicap-accessible, ADA-compliant portable toilets and comfort stations. For VIP clients, weddings, and high-end events, we offer larger sized portable toilets with built-in wash stations, as well as Nu Concept deluxe solar portable restrooms that feature a flushing toilet, solar lights, running water, vanity, hand soap dispenser, and built-in trash receptacle. Finally, for those who have a mobile operation, such as a multi-site relay event or a job site that spans a very large area, you can rent our trailer units which allow you to easily transport the portable toilet as you move from one location to the next. Call to book your porta-potty rental today -- we offer short term, long term, and permanent rentals.
Septic Repair Services for Santee, Jamul, Spring Valley, Lakeside, Julian & Nearby Areas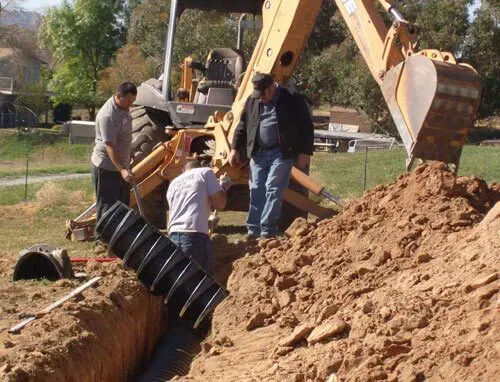 Unlike most other septic pumping companies serving Santee, Jamul, Spring Valley, Lakeside and other East County communities, our drivers do more than just clean and pump out your tanks. We're also able to recognize potential septic system problems, and provide cost-effective recommendations to address them. For some clients this might mean increasing the frequency of their pumping schedule to accommodate increased usage, but for others this might require a more thorough inspection so that we can determine what repairs are required. Common septic tank repairs include leach line additions, a leach field extension, riser repair, riser replacement, concrete re-pours, tight line repairs, and leach line and outlet fitting replacements. If the septic tank itself is beyond repair, we also provide complete septic tank replacement services.
We had an issue with our tank on a Sunday morning. I called several places and, only Sludgebusters had an Emergency Phone Number easily visible on their website. I called the number and it was answered right away by Ed which was awesome. He was out at our place within 2 hrs (he was finishing up another job when I called) and took care of the problem. Not to mention, we had great conversations while he was working. They've got another lifelong customer here.
Septic Tank Installation, Modernization and Upgrades In & Near Santee, Jamul & Spring Valley, CA
Whether you need to install a completely new septic system on a property that you recently purchased or wish to upgrade an older system so that it has the capacity to meet the needs of a growing household, Sludgebusters is the only call you need to make. With our decades of experience, industry-leading protocols, and exceptional reputation throughout East County, you can count on us to:
conduct a thorough site inspection
develop a well-designed septic system plan
recommend a properly-sized, quality septic tank that matches your needs and budget
expertly install the tank and leach lines in complete compliance with current codes
We sell and install septic tanks from trusted brands, such as Jenson, Infiltrator, and B&G Fiberglass, and stand behind our workmanship with a one-year labor warranty. Additionally, Sludgebusters excels at modernizing and upgrading septic tank systems. Our work ranges from extending leach fields to adding additional tanks to an existing system. Call today to tell us about your needs.